Manjiro Festival
October 4, 2025
Center and Walnut streets, Fairhaven
A Japanese-American festival commemorating Manjiro Nakahama, the first Japanese person to live in America, and the town's Sister City connection with Tosashimizu, Japan, established in 1987.
There will be Japanese and American music and food, martial arts demonstrations, taiko drummers, flower arranging, raffles, food and craft booths, a tea ceremony, and much more! Japanese students from Tosashimizu will have a table creating origami and writing names in Japanese free for visitors. There is free admission to the festival, and to the Old Stone School House, 40 North Street, where Manjiro went to school.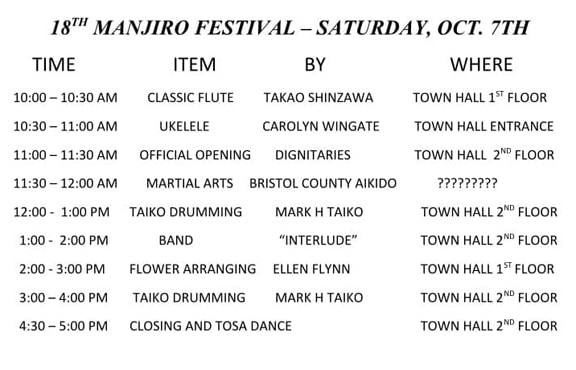 Sponsored by the Whitfield-Manjiro Friendship Society. Free. For more information email Gerry@WMFriendshipHouse.org or call 508-858-5303. Vendor applications and updated details are posted at http://Whitfield-Manjiro.org.