This is the list of the booths that were signed up for the 6th Annual Harvest Fun Day in 2018. 
Heart Body Arts: face painting, henna "tattoos," homemade soaps
Carousel Family Fun Center: meet Buttons the Bear
Taylor's Products: hand painted mugs, plates, platters
Lisa Elliott & Susan Gelotte: woven rag rugs, felted wool hot pads and coasters, wood and linoleum block prints
FairhavenVillage Militia: bounce house, popcorn, t-shirts
DLemma Photography: photo mugs, calendars, prints
Fairhaven Call Fire Fighters Association: T-shirts, mugs
Seaside Design Studio: hand crafted home décor and shirts
Roxanne's Garden Center, organic soaps, cement yard pieces, organic extracts and flavored salts
Bracelets by George: braided elastic bracelets
Choose Happiness: "Choose Happiness" shirts, hats
Our Lady's Haven: Fall cookie decorating
Joseph Bates House Museum, historical dress-up for kids, museum info
Supreme Perfection Studios: pour paint ornament craft
Shirley Mendonca: photo note cards, hand decorated wooden boxes
Carefree Homes: fall craft, balloons, information
Four Paws Up, gourmet dog treats and pet clothing
Spinning Wheels Mobile Yarn, fine yarns from throughout New England and beyond
Nightshade Art Shoppe, wearable hand painted patches, handcrafted jewelry, original art, decor items
Mass Attack Roller Derby, games, photo board, coloring station, skating demos
Girl Scout Troop 65427, nail painting
Simply Sisters Creations, wreaths, wooden ornaments, home decor
Marie Machado, jewelry
Cedar Ledge Apiary, honey, candles, skin cream,lip balm and other bee related items
Ooh So Tulle, kids' tutus, headbands, bows, necklaces and other accessories
S.W.I.S. Woodworking, scrolled décor, birdhouses, doll furniture, kids furniture, planters, toys, etc.
Monica Nicole Creations, wood signs, yard games, personalized wine glasses, tumblers, custom apparel and accessories such as key chains, etc.
Software Daily, handmade fleece hats, doggie duvet covers, neckwarmers, catnip toys, original art by Ron Fortier
B and B Originals, hand made walking sticks, hiking staffs, hand sewn sun hats, tote bags, ladies hand bags
This and That, framed puzzle art
New Bedford Pottery Works, handmade ceramics made in New Bedford, ceramic pumpkin painting craft for children
Southern Mass Sea Glass, resin accessories made with sea glass, flowers, stones, leaves, including bracelets, paperweights, key chains, coasters, more
One of a Kind Kreations by Kimmy, crocheted dish towel toppers, photo products
K-Pad Woodwork hand turned and carved pens, shaving razors, lamps, candle holders, wallets, wine glasses, signs, and a variety of other items
The Copper Snail, hand made home and garden décor from found and repurposed materials
The Copper Snail, Too: slime making, games
The Crooked Cottage, Quilting, wood burning, jewelry, more
Patriotic Woodworking, wooden flags
Linda's Candles, candle holders and candles
Twinkling Tumblers, glitter cups of various sizes
Rustic Vineyard, handmade wine racks and bottle/glass caddies for picnics or home display, made from solid oak or reclaimed wood
Bogtrotter Designs, home decor and sculptures using locally foraged driftwood and shells
Ron O'Berry Jr.: small watercolor prints and notecards featuring the artist's work
Plaids and Tweeds, wool bags, mittens, hats, and scarves made from recycled clothing
Hopewell, Inc., children's game, lollipops, coloring sheets, info on foster parent services
Barbosa Family Farm: fresh fruit, vegetables, herbs, plants
Diana Taft Designs: fine jewelry made from stones, glass, wood
Girouard's Farm: farm fresh eggs
Kindred Photography by Angie: photo opportunity, craft activity, hand made paintings, woodworking yard silhouettes and decor
West African Treasures: woven grass baskets
Capture the Moment with Mike Ducatt: photography
JJ Creations: soy candles, heating pads, weighted blankets for people with sensory needs
Back Cellar Designs,  repurposed items for home and garden, mirrors, sconces, plant holder shutters, rustic wooden/bottle vase centerpieces
Bobby Bruso Scholarship Committee, postcards and hand-painted shells of pictures taken by Bobby Bruso, hand-made candles
Fairhaven Health Department, recycling game and information
The Rusty Scissors, unique hand sewn and vintage style dolls
Knit N Stitch, knitted hats, cowls, blankets, dish cloths, sewn potholders, blankets, and dish cozies
Barnyard Recycling, totes made from recycled grain sacks
Ever After Storybook Entertainment, princess characters, glitter tattoos
FOOD & REFRESHMENT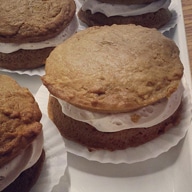 Dorothy Cox's Chocolates: Del's Frozen Lemonade, ice cream, fudge
Emma Jean's: apple cider donuts, pretzels, glazed nuts, breads, pies
FHS Honor Society: bottled water
North Fairhaven Improvement Association: caçoila sandwiches, hotdogs, soda, and chips
Fairhaven Rotary Club: kale soup, chowder
Crazy for Cookies, homemade cookies
Silly Bean Coffee Co., cold brew, nitro coffee, and specialty iced coffees
Fairhaven Lions Club, cotton candy, hot coffee, hot apple cider
Fort Phoenix VFW Auxiliary #2892: baked goods (breads, cookies, squares, chocolate pretzels, etc.) as well as patriotic pencils and rulers to hand out to the children
WALK-AROUND ENTERTAINMENT
Pirate "Abby Black", Fairhaven Pirates & Privateers
Princess Character, Ever After Storybook Entertainment
Scarecrow Stilt-walker, Extraordinary Arts LLC
Jack Skellington
Also climb aboard Matt McGraw's 1924 Ford Model T Depot Hack, 
take your photo on Ron Hammond's red Farmall Tractor,
and visit the Historical Society Museum in the Academy Building.
MUSIC THROUGHOUT THE DAY BY
FURTHER INFORMATION: