This is the list of the booths that are already signed up for the 6th Annual Harvest Fun Day on October 13, 2018. Check back for updates.
Heart Body Arts: face painting, henna "tattoos," homemade soaps
Carousel Family Fun Center: meet Buttons the Bear
Taylor's Products: hand painted mugs, plates, platters
Lisa Elliott & Susan Gelotte: woven rag rugs, felted wool hot pads and coasters, wood and linoleum block prints
FairhavenVillage Militia: bounce house, popcorn, t-shirts
FHS Art Club & FHS Art Honor Society: art
DLemma Photography: photo mugs, calendars, prints
Fairhaven Call Fire Fighters Association: T-shirts, mugs
Seaside Design Studio, hand crafted home décor and shirts
Roxanne's Garden Center, organic soaps, cement yard pieces, organic extracts and flavored salts
George McAndrew: elastic bracelets
Choose Happiness: "Choose Happiness" shirts, hats
Our Lady's Haven: Fall cookie decorating
Scrubs and Stuff, all natural flaxseed and rice body warmers, all natural lip balms, head wraps, handmade Christmas ornaments
Joseph Bates House Museum, historical dress-up for kids, museum info
Supreme Perfection Studios: pour paint ornament craft
Shirley Mendonca: photo note cards, hand decorated wooden boxes
Carefree Homes: fall craft, balloons, information
Four Paws Up, gourmet dog treats and pet clothing
Carol Burt, wreath & things
Debbie Diiorio, make your own bracelets
Nightshade Art Shoppe, wearable hand painted patches, handcrafted jewelry, original art, decor items
Also climb aboard Matt McGraw's 1924 Ford Model T Depot Hack, 
take your photo on Ron Hammond's red Farmall Tractor,
and visit the Historical Society Museum in the Academy Building.
FOOD & REFRESHMENT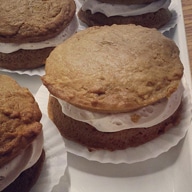 Dorothy Cox's Chocolates: Del's Frozen Lemonade, ice cream, fudge
Emma Jean's: apple cider donuts, pretzels, glazed nuts, breads pies
FHS Honor Society: bottled water
North Fairhaven Improvement Association: caçoila sandwiches, hotdogs, soda, and chips
Fairhaven Rotary Club: kale soup, chowder
Silly Bean Coffee Co., cold brew, nitro coffee, and specialty iced coffees
Fairhaven Lions Club, apple crisp w/ice cream, apple cider
Fort Phoenix VFW Auxiliary #2892: baked goods (breads, cookies, squares, chocolate pretzels, etc.) as well as patriotic pencils and rulers to hand out to the children
MUSIC THROUGHOUT THE DAY BY
FURTHER INFORMATION: