Henry H. Rogers Monument (dedicated 1912, moved 1965)
Lawn of Fairhaven High School
12 Huttleston Avene, Fairhaven
Following the death of Fairhaven's benefactor Henry H. Rogers in 1909, a committee headed by Walter P. Winsor was formed to build a monument in memory of Rogers.
The traffic island at Huttleston Avenue and Main Street at the entrance of the town was selected as the site of the monument. Rogers' favorites architects, the firm of Brigham, Coveney, and Bisbee, was selected to design it. The monument is a fluted granite column topped by an electric light. On the base is a bronze medallion featuring a bust of Rogers and a plaque with the following inscription:
IN GRATEFUL RECOGNITION
OF THE
WORTHY ACHIEVEMENTS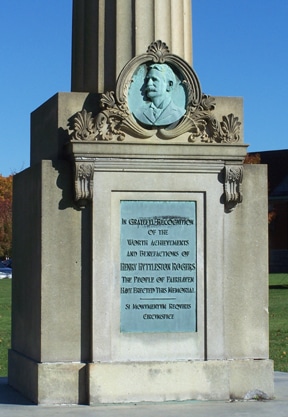 AND BENEFACTIONS OF
HENRY HUTTLESTON ROGERS
THE PEOPLE OF FAIRHAVEN
HAVE ERECTED THIS MEMORIAL
_______________
SI MONVMENTVM REQVIRIS
CIRCVMSPICE
The final phrase in Latin translates as, "To see his works, look around you."
The Town of Fairhaven contributed $4,000 toward the cost of the monument. It was erected in 1911 and dedicated with a ceremony at Town Hall on January 29, 1912.
By the 1960s, increased traffic on Route 6 made the monument a hazard and it was the cause of a number of accidents. The monument was relocated to the lawn of Fairhaven High School by Rex Monument Works in 1965.