Here is the current list of vendors taking part in Kids Fest 2022 as well as a list of the activities and entertainment.
ACTIVITIES & ENTERTAINMENT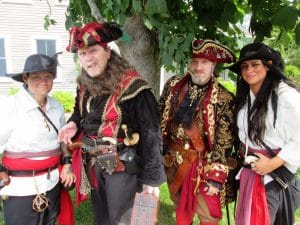 Pumpkin Painting supervised by Friends of the Millicent Library. (Pumpkins are sold by Barbosa Family Farm.)
Costume Contest & Parade, 12:00 noon
Pirates of the Cape, costumed pirates, fun pirate activities, photo opportunities (all day)
Meet and greet "Magical Familia" characters, from Ever After Storybook Entertainment, photo opportunities, also face painting. (all day)
Skald of the Norse, stories of the Norse gods and the Viking age, kids axe throwing, demonstrations of Viking fighting tactics, play Kubb the Viking lawn game (all day)
P.A.C.E. Child Care Works, fall craft activity
Fairhaven Sustainability Committee, Halloween Swap—pick out clean, used costumes and Halloween decorations that have been donated for reuse (all day)
Climate Reality Massachusetts Southcoast, coloring sheets, learn about microplastics by separating plastic from sand, raffle, more (all day)
Ezekiel the Green, a member of the Obscure Council of Lesser Green Wizards and his pet dragon Balthazar
An Antique Fire Truck to climb aboard courtesy of the Fairhaven Protecting Society
Troop 52 "Be a Scout," recruiting boys and girls , soft archery activity
Extraordinary Arts, Stilt Walker throughout the grounds (11:00 a.m. to 1:00 p.m.)
Fairhaven Belonging Committee Sensory/Calm-Down Booth, for those needing a break from the excitement, with coloring, bubbles, photo backdrop, baby changing tent
Soulflower Yoga & Wellness, learn some yoga poses
VENDORS
Baubles for Hope, novelty and beaded jewelry
Trucks and More by John, hand made wooden toy trucks and cars
Kligel Creations, reading pillows, wooden puzzles, pumpkins, coloring mug rugs
Knotty or Nice Knits, hand made children's clothing and accessories such as hats and hair bows
Babydoll Bedding and Boas, flannel receiving and swaddling blankets, car seat fleece ponchos, fleece doll bedding, fleece doll sleeping bags
Bamboo Bubbles by Kelly, glass vase with water beads and bamboo plant. Kids/adults create their own plant
Hidden Leaf Crafts, hair accessories, artwork, and gift certificates for horseback riding lessons
Make Your Own Name Bracelets, kids are able to design name bracelets with beads and notions
wildheartcrochet, crochet toys—all different animals 
Fairhaven Village Militia, T-shirts, sweat shirts, popcorn, colonial demonstrations, free craft activity
Maggie Lu Clothing, handmade children's clothing, accessories, bibs, burp cloths
King's Castle Designs, inexpensive paint kits featuring wood crafts and ceramics, free craft activity
Angel's Touch, kid's pocketbooks, hats, headbands, head bows
Maddie's Badges & Ooh so Tulle, decorative retractable badge holders, charms, lanyards, BoHo barrettes, hair clips, tutus, bubblegum necklaces, bows, leotards, bracelets and unicorn horns
Soares Martial Arts, information booth and prize wheel to win lessons
Bottlecap Bowtique, hair accessories & necklaces
The Crayon Guy, hand crafted crayon holders, toys, gift boxes
B and B Originals, fabric bags and more with kids prints, costume capes
My Oily Madness, Zoey's Magical Homemade Slime, ribbon wands, ribbon crowns, hand made games, kids bracelets, more
My Sweet Alibi, crochet plush items, "freshies" air fresheners, shirts, keychains, boo boo bags, bows
Jingle Cat Creations, hand made necklaces, bracelets, rings, and earrings
K&A Creations, ceramic and 3D printed plastic craft kits for sale, free mask decorating activity
By the Bay Wampum, shell decorating and sea-related ornament making
Goat Haven Farm, homemade kid-themed organic goat milk soaps, in shapes including unicorns, dinosaurs, flowers, butterflies, trains, etc.
Sara and Caitlyn Gifford Art, hand sewn Halloween themed miniature stuffed animals, stickers, hand designed coloring books
FHVN Market, Fairhaven based clothing, design your own shirt
LML Farmhouse Home Decor, girl's and boy's jewelry, picture frames, and hand crafted wood décor
Unicorn Expressions, paintings, lava bead bracelets, bangle bracelets, earring necklaces, keychains
Bracelets by George, colorful braided elastic bracelets
FOOD
Boy Scout Troop 52, hot dogs, drinks
Fairhaven Rotary, soup
George H. Taber Lodge, gourmet grilled cheese sandwiches
Cyd's Creative Kitchen, cookie decorating kits, breads pies, cheese rolls, pastry
Dorothy Cox's Candies, ice cream cups, ice cream bars, chocolate, fudge, taffy, Del's lemonade, old-fashioned bottled soda
Rosie's Sweets, baked goods—cookies, hand pies, scones, all prepackaged and labeled
Fairhaven Lions Club, apple crisp with whipped cream