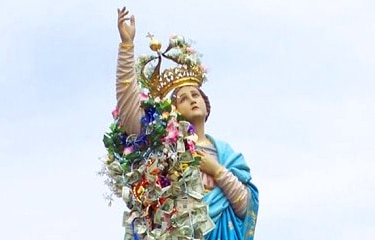 Feast of Our Lady of Angels
September 5, 6, 7, 2020
CANCELLED for 2020
Our Lady of Angels Feast Grounds, 7 Jesse St.,
Sat. 5 p.m.-Midnight, Sun. Noon – Midnight,
Mon. Noon – 10:00 p.m.
Procession on Main St. Monday at 1:00 p.m.
A traditional, weekend-long Portuguese "festa" featuring live music, game booths, Portuguese and American foods, auctions, kids' activities. On Monday at 1:00 p.m. a procession is held from St. Mary's Church to Benoit Square and back, with marching bands, clergy, local officials and invited guests. The carved wooden statue of Our Lady of Angels is carried along the route on the shoulders of members of the club.
Sponsored by Our Lady of Angels Catholic Association. For more info: 508-990-0502