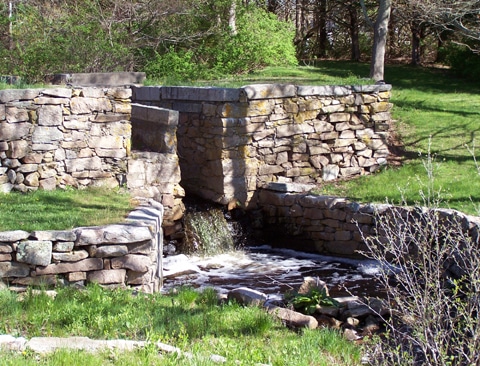 Dexter Mill/Tub Mill Property
Fairhaven Road, Route 6, Mattapoisett
Parking lot on Mendall, opposite Highway Department Building
Daylight hours, year round
In the 19th and early 20th centuries, a water-powered sawmill was located at Dexter Mill. It manufactured staves for tubs and barrels. The mill building burned down during a thunderstorm in 1911. Today, only the earthen dam and mill race still exist. Tub Mill Brook flows from the north under Route 6 to Eel Pond and Buzzards Bay.
This property, which covers 3.5 acres with frontage on both Route 6 and Mendell Road, is owned by the Mattapoisett Land Trust. Though it sits on busy Route 6, there are peaceful spots away from the road that would make fine places to enjoy a picnic lunch. The historical stone work of the mill race offers a look back to the early days of the industrial revolution when rushing water from rivers and streams provided power to small village factories.
A parking lot for visitors is located on Mendell Road across from the Mattapoisett Highway Department barn. Visitors with children are asked to use caution as the mill race could pose a danger for the young.
For more information on the Mattapoisett Land Trust,visit http://www.mattlandtrust.org/