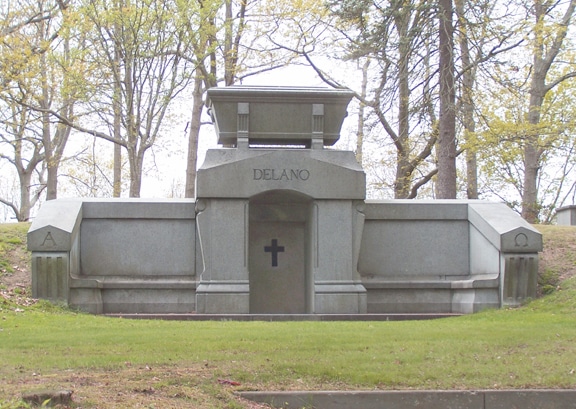 Delano Family Tomb  (1859)
Delano Family Tomb was built in 1859 by Edward Delano, a brother of Warren Delano II (1809-1898) and an uncle of President Franklin Delano Roosevelt. There are 24 receptacles within the tomb and twenty people have been interred there. Most of the immediate descendants of Warren Delano I (1779-1866) are inside the tomb except for Sara Delano Roosevelt, the mother of F.D.R., who rests with her husband James and her son Franklin at Hyde Park in upstate New York. The tomb was designed by Richard Morris Hunt, who was later the architect of the The Breakers mansion in Newport, RI.
Atop the hill, many other members of the Delano family are buried, including Frederic A. Delano (1863-1953), an American railroad president born in Hong Kong and an uncle of President Franklin Delano Roosevelt. Frederic A. Delano served as the first vice-chairman of the Federal Reserve from 1914 to 1916 and was the last family owner of the "Delano Homestead" at 39 Walnut Street in Fairhaven.
The Delano family in Fairhaven dates to the 1670s when Lt. Jonathan Delano, a son of Philipe de Lanoy, settled here. A story of the  family history in Fairhaven can be found here: The Delano Family
RETURN to Riverside Cemetery