Capt. Joshua Slocum Monument (dedicated 1959)
Cooke Memorial Park
2 Pilgrim Avenue, Fairhaven
This boulder marks the place near which Captain Joshua Slocum painstakingly rebuilt an antiquated oyster boat, Spray. The small vessel (36 feet, 9 inches) had been given to Slocum by Poverty Point resident Capt. Eben Pierce. Slocum began his rebuilding of the Spray in 1891 and launched his fully overhauled vessel on June 21, 1892.
Slocum began living aboard the Spray. He remained in Fairhaven for a short time afterward and tried fishing for a season, but without much luck.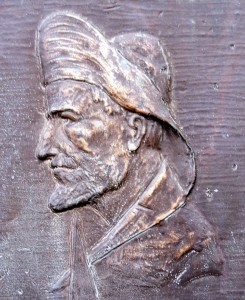 In April of 1895, Slocum set sail from Boston on a three-year voyage around the globe. When landed at Newport, RI in June of 1898, Slocum became the first man to have sailed around the world alone. On July 3 of that year, he sailed the Spray back to her birthplace in Fairhaven.
Slocum's book Sailing Alone Around the World, first published in 1900, is still in print and has been translated into many languages.
The monument in the park was dedicated on April 18, 1959. The principal speaker at the dedication ceremony was Slocum's biographer William Magnes Teller.