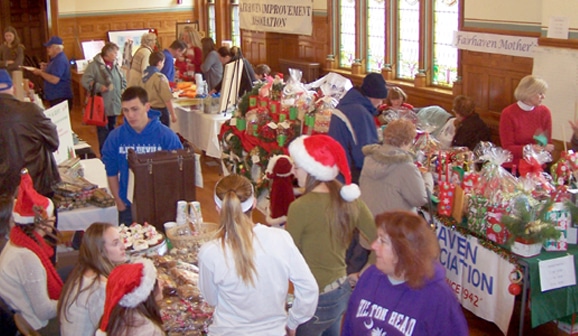 Town Hall Shops (an Old-Time Holiday event)
Saturday, December 9, 2017, 10:00 a.m. to 3:00 p.m.
Fairhaven Town Hall, 40 Center St., Fairhaven
The Town Hall auditorium is filled with tables of sale items from about 25 non-profit groups, school groups and churches. Among the many offerings you'll find gifts, holiday wreaths and centerpieces, baked goods, candy, ornaments, hand crafted items, T-Shirts, raffles, and silent auctions. There will be face painting by Heart Henna, children's activities and live music performed by students of Fairhaven Public Schools. in the banquet room on the first floor, food will be available. Handicap accessible. Admission is free. Sponsored by the Fairhaven Office of Tourism. For more information email FairhavenTours@fairhaven-ma.gov or call 508-979-4085.
For other Old-Time Holiday events on the same day, see: Old-Time Holiday.