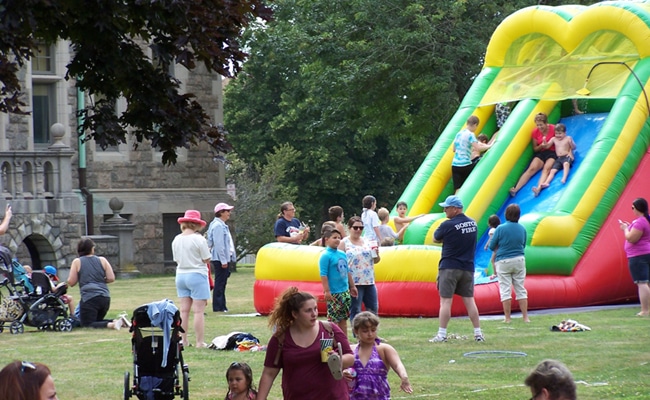 Monday Morning Fun at the Visitors Center
with the New Bedford Fishing Heritage Center
and a Giant Water Slide!
Monday, July 24, 2017, 9:00 to 11:30 a.m., program at 10:00 a.m.
Fairhaven Visitors Center, 141 Main Street, Fairhaven
A fun morning for kids aged 5 to 12 and their parents or guardians on the lawn of the Visitors Center. Play old-fashioned lawn games like trap ball, nine pins, Jarts, bean bag tossing, hoop rolling, jump in the bounce house and more. Run through the sprinklers and slide on the giant water slide. (Bring a bathing suit and towel.) Visit Heart Body Arts' face painting and henna booth. Say hello to "Buttons" from Carousel Family Fun Center. Enjoy ice cream and bottled water from Acushnet Creamery. At 10:00 a.m. the New Bedford Fishing Heritage Center will present a program "All About Scallops." Learn about scallops and the local scallop fleet, make a scallop shell craft, and try on a fisherman's survival suit. Games and program are free. There is a charge for face painting and refreshments. Sponsored by the Office of Tourism. Bounce house sponsored by Seconds Count. Giant water slide sponsored by the Fairhaven Improvement Association. For more information, call 508-979-4085 or email FairhavenTours@fairhaven-ma.gov.
For a list of the other Monday Morning Fun programs, visit https://fairhaventours.com/monday-fun/