Here is a list of vendors who signed up for the second season of the Huttleston Marketplace in 2019. 
Application form and the rules and guidelines for vendors for the 2020 season can be downloaded as a PDF here: 2020 Huttleston Marketplace Application.
ALL SEASON
These vendors were set up nearly every week during the 2019 season
B and B Originals, hand crafted hiking and walking sticks, cosmetic bags, tote bags, and hand bags from vintage fabrics
Watercolor Art by Ron O'Berry Jr., small prints and notecards made from original watercolor paintings
Harborside Upcycled, upcycled nautical décor, bracelets, buoy lamps, items made from driftwood, rope, fishing net
Lafleur's Wild Flower Honey, honey produced in Swanea, MA
New Bedford Pottery Works, ceramic gifts
Bogtrotter Designs, home decor and sculptures using locally foraged driftwood and shells
Cyd's Creative Kitchen, fresh breads, pies (fruit, chicken, meat), cheese rolls, sandwiches, and more
Shirley Mendonca, photo notecards & decorated wooden boxes
This and That, framed picture puzzle art
Attic Alchemists, body art, handmade soaps and sundries, small antique pieces, antique buttons and upcycled antique jewelry
The Crooked Cottage, pyrography, quilts, sewn clothing and accessories, painted artwork, more
Funky Bijoux, beach glass and pottery made into mosaics for the garden, driftwood, and driftwood sculptures 
Lisa Elliott, hand woven wearables and home accessories
Girouard Farm, farm fresh eggs, homemade dog treats
Spinning Wheels Mobile Yarn, yarns from independent dyers and fiber sources throughout New England 
Barbosa Family Farm, fresh vegetables, fruit, herbs, hand crafted items
Wreathing Around with Paula, wreaths, tumblers, genuine and faux leather accessories, other hand made crafts
Roxann's Garden Center, plants, organic soaps 
Brenda's Pastries & Cakes, breads, brownies, turnovers, cakes, more
Bracelets by George, braided elastic bracelets
Little Harbor Creations, scallop shell jewelry, scallop shell afghans, scallop shell boxes, and Rachel Spaulding's book "In Search of Ellen Marie"
Creations, quilts, cat beds, cat & dog toys, crocheted and knitted items–dog clothes, pot holders, baby blankets, more 
SELECTED DATES
These vendors were set up on selected dates throughout the 2019 season
West African Treasures, hand woven grass baskets, other African crafts
Teal Farm, farm fresh vegetables
Oxford Creamery's Oxcart, hotdogs, grilled cheese, veggie burger, lobster rolls, clamcakes, fries, soda, water, ice cream
Diana Taft Design, Custom and original jewelry designs made from semi-precious, stone, glass and wood
Ana's Aprons, hand made aprons for adults and children, "mommy and me" apron sets 
Elizabeth's Crafts, handmade wreaths
One of a Kind Kreations by Kimmy, unique dish towels, photos, magnets, calendars
Prairie Blossom Silver, hand crafted silver jewelry with natural stones, shells, and fresh water pearls
Back Cellar Designs, repurposed one-of-a-kind items for home & garden, small and mid-size furniture, mirrors, wall art, garden planters, more
DLemma Photography, photo prints from the Southcoast area, calendars, magnets
LMP Soapworks, hand crafted soaps, scrubs, bath salts, balm, laundry powder, personal care items canine shampoo bars, and more
GGolden Woodworks, hand crafted cutting boards and serving boards from locally sources hardwoods, hand crafted Adirondack furniture
Custom Jewelry Designs by Marie, jewelry of all kinds, including children's
Softness by Nature, natural handmade soap and aromatherapy products, as well as candles, bath bombs, and body products
Knit and Stitch,  knitted hats, cowls, blankets, dish cloths, sewn potholders, blankets, and dish cozies
Policain Creations,  jewelry and pendants/charms using alcohol ink and resin or fused glass and resin
Authentic Handworks, polymer clay, silver, and gold filled jewelry 
For the Birds, Steve Almeida's unique bird houses made from reclaimed wood, and decorative birds artfully fashioned from PVC pipe 
Rokn' Art, framed rock art with inspirational quotes, do-it-yourself rock art kits 
Nancy's Knitting Creations, knitted afghans, baby hats, sweaters, yarn decorated tissue boxes 
Chelsea Mae Design, handmade bags and accessories 
My Ceramic Creations, ceramic Christmas trees, Santas, lighthouses, you-paint-it kits, and assorted ceramics 
Twisted by Ken, hand made twisted wire jewelry 
Custom Design Pens, turned wood and acrylic pens, including custom designs and specialty pens for many professions 
Namaste Rabbit, wooden painted jewelry, wire wrapped crystal jewelry, pyrography jewelry, macramé and hand stamped jewelry
MACS Boutique Vegan Cork Jewelry, handmade cork jewelry and accessories made from Portuguese cork 
Southcoast Sea Glass, seaglass jewelry made from glass found on New Bedford and Fairhaven beaches 
By the Bay Wampum, wampum jewelry made from local quahog shells, wood crafts, antiques 
TAL, antique and vintage furniture, glassware, china, artwork 
WickSmith Candles, hand poured soy candles and melts 
Birdhouses & Baskets, painted birdhouses, specially designed gift baskets, fresh cut flowers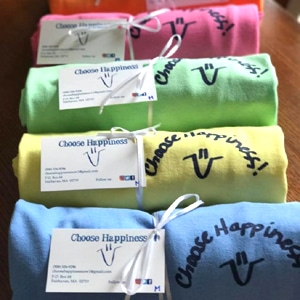 Willow Ridge Candles, hand poured soy candles, all natural lip balm, soy wax melts 
Lollie's Loops, crocheted and sewn items including stuffed animals, baby sweaters, dish cloths, dish towels, hanging towels and more 
SWIS Woodworking, wooden toys, scroll work decor, wooden furniture, and more 
Choose Happiness!, T-shirts, hats, and sweatshirts with the Choose Happiness! logo 
Cards by Cecelia, handcrafted greeting cards 
Cobblestone Headwear, headwear embellished with locally inspired designs
A Touch of Grace by Paula, hand made beaded jewelry 
Joan B's Treasures from the Sea, coastal décor, hand crafted glass lamps, seashell art, trinket boxes, beach signs, fairy gardens 
A Few of My Favorite Things, mixed crystal suncatchers and mixed media jewelry 
The Wandering Brush, affordable, original watercolor art, florals, landscapes., pets, wood mounted, cards, magnets, small gift pieces
KS Books, children's books "August Skies" and "June Moon," by local author Kathleen Souza
Everday Portuguese, three Portuguese cookbooks by RI author Kevin Cordeiro 
Dane Home Designs, hand sewn and decorated pillow covers 
Nobrega S Photography, photo prints of local and non-local scenes 
I Live Aware, therapeutic putty with aromatherapy attributes 
B&B Embroidery, embroidered hats, towels, pot holders, etc. 
Simply Sisters, wooden decor, wreaths, signs, wood slice ornaments, nature inspired jewelry, crocheted hats/headbands 
Studio 1 Jewelry, handmade jewelry, beaded necklaces, bracelets, earrings, keychains, charms, rings, ceiling fan pull chains 
Fairhaven Lions Club, hot coffee, iced coffee, infused water, linguica sandwiches, hotdogs, hamburgers, malasadas 
Busy Sister Boutique, embroidered items—wallets, mini bags coloring dolls, bookmarks, more 
Lookout!, locally designed and embroidered goods, including towels, bags, aprons, pillows, more 
Mooseman's Kettle Corn, fresh popped kettle corn 
Custom Toe Rings, hand made toe rings 
Creations by Sergio, jewelry hand made from silver and semi-precious stones 
Ponderosa Paca Farm, fun and unique alpaca products, including drier balls, boot liners, socks, yarn, and more 
Barnyard Recycling, totes, aprons, outdoor pillows made from recycled grain sacks, painted horseshoes 
Seed Pods, wood carvings of fish, whales, mermaids, suns, moons, etc. 
Cape Cod Seahorse, fabric, feather and crystal seahorses, unicorns, horses, pegasus as mobiles, toys, pillows 
Fine Art & Jewelry Design by SYLVIA, paintings from the shore, hand made jewelry crafted from hand painted shells, beach glass, wampum
Karee It, zippered cases, including change purses, makeup cases, wristlets, pencil cases, sunglasses cases, and more 
Simply Scrunci, hair scrunchies
Fashion by Paul, personally engraved silver rings
Everyday Amazing Shop, wood signs, decorative tea towels and pillows
Good Life 4 Me, personalized bird nest families made with painted stones, towels, robes
Boy Scout Troop 52, hotdogs, fruit, bottled water
Coast 2 Coasters LLC, hand made tile coasters, heat and water resistant
Claire Duff, fabric crafts, quilts, etc.
Bear Hand Creations, macramé wall décor, macramé plant hangers, weaving wall décor, clothing with macramé accents, clay pots, clay 
Cloverdilly Candle Company, hand poured soy and coconut wax candles 
Studio Sea Designs, beach and nautical themed night lights, driftwood wind chimes, silver & sea glass jewelry, mermaid tail jewelry holders, more 
Goin' Fishin', T-Shirts with drawings of local fish, lobstering, crabbing, etc., photos of local area, other crafts
Shellz Beadz, loom bead woven jewelry including bracelets, earrings, necklaces, using semi precious stones, glass beads, etc.
Sew Corky, home sewn, hand crafted handbags and wallets made from sustainable cork 
Sleepy Dawg Gifts, etched wine and beer glasses, kitchen towels, can coozies 
Robust Radiance, hand crafted natural beauty products–soaps, etc. 
Southern Mass Sea Glass, resin accessories made with sea glass, flowers, stones, leaves, including bracelets, paperweights, key chains, coasters, more
Sam-honey Pottery, handmade pottery, including mugs, bowls, plates, platters, plant pots, incense burners
Richard Seaman, small whimsical pottery figurines–animals mermaids, fairy houses
Sandler Crafts, pebble art
Witchy Womens Wares, dream catchers, hand made jewelry, crystals, hand painted items
Fairhaven Sustainability Committee, information on the Plastic Free EcoChallenge that runs for the month of July
Rochester Lions Club, breakfast egg'n'muffin sandwiches, a variety of grilled cheese sandwiches, pulled pork, mac & cheese, coffee, cold beverages
North Fairhaven Improvement Association, meat pies, spinach pies, stuffed quahogs, waters
Dacia's Design Shop & Natures Couture Shop, home goods and home decor including hand made cards, onesies, decorated flower pots, glasses, cups, wall hangings, signs, pressed flower coaster/hotplate sets
Parker Tavares Studios, original hand printed block prints on paper and fabric, and photography
Oma GiGi Dog Cookies, all natural homemade dog treats
Helen's Florals, decorated seashell and floral wreaths, nautical scenery boards, candle rings, ornaments 
Sparkease Tie Die & Marbling, tie dyed clothing for children and adults, marbled hats
Dorothy Cox's, ice cream, Del's Frozen Lemonade, water
Treasures from Harley's Heart, wooden signs
B'spoke, hand made tote bags purses, wristlets, etc.
DeTerra's Bounce, bounce house and inflatable obstacle course
Cathy's Sugar Scrubs & More, sugar body scrubs, butters, wax melts, more
Parties Here, wooden signs made with vinyl lettering, coasters, decorated glass blocks with battery operated lights, vinyl decorated wine glasses, car stickers, more
Storytime with Friends & Zoomd Photography, hand knitted friends with their storybook, photo note cards
Katies Knots & Scopes of Color, macramé plant hangers, hanging baskets, wall hangings, painted bird houses and other found objects
Hailey Dube Art, original artwork and prints
Ewenique Knits, knitted items 
Maddie's Badges & Angel Touch, decorative retractable badges, unicorn purses, bear purses, bows, heating pads
Funache, small batch, hand crafted custom chocolates flavored with spirits and liquor. Not quite fudge, not quite ganache…it is Funache 
Each week there was live music performances in the early afternoon.
Return to Huttleston Marketplace Home.